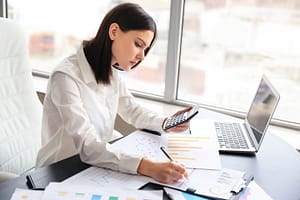 Using an accountant can make your life significantly easier. Whether you are filing your taxes as an individual or for your business, it can be a hassle to keep track of everything throughout the year — not to mention preparing everything when it comes time to file. The benefits are even more apparent when you have a complex tax situation. Moreover, when your taxes become more complicated, you run the risk of having to deal with the IRS. This can be an intimidating and stress-inducing position, so you need to have an adept accountant on your side. In today's blog, The Youngblood Group, LLC, discusses the importance of having an Enrolled Agent for IRS representation.
What Is An Enrolled Agent?
An Enrolled Agent license is the highest credential one can receive from the IRS. To achieve this license, one must either pass a thorough three-part test that covers business and individual tax returns, as well as IRS representation or they must be a former employee of the IRS. Furthermore, those who hold this title must complete 72 hours of continuing education every three years and demonstrate that they possess high ethical standards. 
Once someone attains the Enrolled Agent license, they can represent you before the IRS at every level: examinations, collections, and appeals. Moreover, they can assist and advise you on anything tax-related. They are especially valuable if you are being audited or owe the IRS money. 
What Are The Benefits?
When you work with an Enrolled Agent, you can rest assured knowing that you have an experienced and knowledgeable accountant on your team. Even if you do not need IRS representation, those with this license have a vast understanding of taxation. When it comes time to file your taxes, they will be able to ensure that you are well-prepared, properly documented and that you are saving as much money as possible. 
Additionally, they have unlimited practice rights, which means they have no restrictions on the kinds of civil tax matters they handle or who they represent before the IRS. At The Youngblood Group, LLC Josh Youngblood is federally licensed, so we can work with taxpayers all over the country and anyone with obligations to the  United States. 
Contact Us To Learn More About The IRS Representation We Can Provide
We know that having to deal with the IRS can feel daunting, but we are here to help you through every step of the process. When you work with us, you have experienced, passionate tax professionals on your side. If you have any questions or would like to learn more, please schedule an appointment. We require appointments for all calls and meetings to ensure we are providing you with the best possible service.